What Limits of Insurance Should You Have to Protect Yourself?
Feb. 28, 2023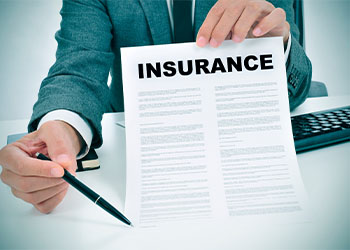 According to the National Safety Council (NSC), the average cost per accident is $4,700 just in property damage, but the average rises to $29,200 if someone is injured. Those figures are pretty striking compared to what the basic automobile insurance policy in Kansas will pay.
Kansas is a no-fault insurance state, which means that regardless of who is at fault for an accident, your injuries will be covered by the Personal Injury Protection (PIP) feature of your basic policy, but that is capped at $4,500 per person for medical expenses. If you don't have collision or comprehensive coverage and you're at fault, you might not be able to recover for the physical damages to your vehicle.
In other words, it's a good idea to consider how much insurance coverage you should invest in to protect yourself.
If you are involved in an accident in or around Overland Park, Kansas, and have suffered injuries or property loss, contact us at Jim Crabtree Law to explore your legal options and get an experienced car accident attorney to represent you in your insurance claim. We serve clients throughout the Kansas City Metro areas of Kansas and Missouri, including Wyandotte County, Johnson County, Independence and North Kansas City.
No-Fault Insurance Law in Kansas
Kansas is one of about a dozen states that legislate no-fault auto insurance coverage. In no-fault states, you must first turn to your own insurance company whenever you're involved in an accident. You cannot, for instance, immediately sue the other driver for personal injuries unless your injuries are severe enough and/or surpass Kansas's medical expense limit of $2,000.
Kansas is considered a 25/50/25 state. This means that your basic policy is required by the state to provide, at minimum, $25,000 per person, $50,000 total per accident for bodily injury caused, and $25,000 for property damage caused.
In addition to these coverages, the basic Kansas policy also includes PIP and uninsured/underinsured motorist protection. The PIP feature pays for medical expenses for you and your passengers who do not have their own insurance.
Included in the PIP rider are:
$4,500 for medical expenses,

$900 a month for one year for disability or loss of income,

$25 a day for in-home services,

$2,000 for funeral, burial, or cremation expenses, and

$4,500 for rehabilitation expenses.
The uninsured/underinsured rider provides $25,000 per person and $50,000 per accident.
Optional Policy Features You Should Consider
Note that the basic policy does not cover damages to your vehicle if you're at fault and the insurance company cannot recover from the other driver's policy. If you wish to protect your vehicle against expensive repair bills – which is probably a smart idea – then you should consider adding on collision coverage.
Another available policy rider is called comprehensive coverage. This extends beyond collision coverage to protect your vehicle from damage due to windstorms, fire, hail or other natural disasters, and events beyond your control.
When Can You Sue the At-Fault Driver?
In all cases, you must first make a claim on your insurance policy for any injuries suffered by you or your uninsured passengers. The limits of what the PIP feature provides were detailed above, but note that pain and suffering are not included. Only a personal injury lawsuit can allow you to seek compensation for the pain and suffering you're experiencing.
Kansas law does, however, allow for personal injury lawsuits under certain circumstances. If your medical bills total $2,000 or more, you can then initiate a lawsuit, also if your injury consists of any of the following:
Permanent disfigurement

A fracture of a weight-bearing bone

A compound, comminuted, displaced or compressed fracture

Loss of a body part

Permanent injury

Permanent loss of a body function

Death
Note that, as we mentioned in the beginning, the NSC puts the average cost of an injury when everything is factored in at $29,200. Your basic PIP coverage comes nowhere close to matching that.
If you have health insurance, any medical expenses not covered by PIP should be covered by your health policy, but you must exhaust your PIP first. It may be a wise idea to check with your auto insurance provider to see if you can purchase a higher limit on your PIP. Remember, however, that pain and suffering are never covered by PIP.
Are Auto Insurance Minimums Enough?
According to the Centers for Disease Control and Prevention (CDC), motor vehicle crashes are a leading cause of death for individuals aged 1 to 54. More than 100 people die each day in an accident and thousands more are injured. On average, each driver will be involved in an accident every 18 years, though of course for some people accidents are a rarity and for others a more frequent occurrence.
The bottom line is that your basic 25/50/25 policy is probably not going to be enough if you are involved in an accident, especially when it comes to damage to your vehicle and injuries to others if you're at fault. You should consider higher policy limits and adding on collision and comprehensive coverage.
How a Personal Injury Attorney Help
Even though an insurance company writes you a policy promising a certain level of benefits, that does not mean they won't try to limit their payouts. Once you make a claim to an insurance company, they will assign you a claims adjuster whose job it is to limit the amount the parent company will have to pay. These claims adjusters have an arsenal of techniques to get you to say something or sign some document that they can then use to limit their settlement.
If you've never dealt with a claims adjuster, you may jeopardize your own settlement if you are not careful. It's in your best interest to consult an experienced car accident and personal injury attorney about your insurance claim. Let your attorney handle all the adjuster's questioning and settlement negotiations.
If you've been involved in an accident in or near Overland Park, Kansas, contact our team at Jim Crabtree Law. We will fight for the best possible terms, and if necessary, we will also launch a personal injury lawsuit to cover your pain and suffering as well as your economic losses.