Most Common Signs of Nursing Home Abuse or Neglect
Oct. 24, 2023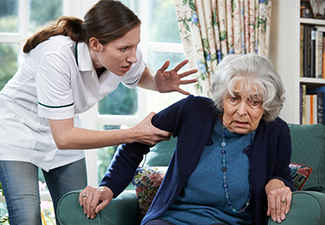 If you have a loved one in a nursing home, it's important to be vigilant about the possibility of neglect or abuse. Unfortunately, instances of abuse and neglect are more common than we like to believe. If you believe something might be amiss, it's vital that you take steps to protect your family member.
In this blog post, we cover some of the most common signs of nursing home abuse or neglect so that you can know what to look for and how best to respond.
When you're ready to speak with a personal injury attorney about a nursing home abuse case, contact Jim Crabtree Law to schedule a free consultation with one of our lawyers. We're ready to guide you and your family forward with compassion. From our office in Overland Park, Kansas, we represent clients throughout the Kansas City Metro Area.
Types of Elder Abuse
Elder abuse is a prevalent issue that affects people across the country, and it can manifest under categories like:
physical abuse

emotional abuse

sexual abuse

neglect
Sadly, many cases of elder injuries and abuse are the result of nursing home negligence, which can also take on various forms such as inadequate staffing or poor facility upkeep.
It's a devastating reality that so many elderly patients are subjected to such abuse when they should be receiving quality care. That's why it's important to raise awareness of all types of elder abuse and take the necessary steps to prevent it—so seniors are treated with the respect and care they deserve.
Common Signs of Nursing Home Abuse and Neglect
Nursing home abuse and neglect can have long-lasting and fatal effects on victims. We've compiled a list of common signs to be wary of when someone you love is a nursing home resident. These signs should never be ignored, as neglect can have serious consequences for both your loved one's physical and mental health.
Physical Signs
It's important to know the signs of abuse, especially physical abuse which can leave bruises, broken bones, and lacerations. These are not easy things to talk about, but it's important to seek help if you or someone you know is experiencing them.
One of the most visible signs of nursing home neglect is the presence of bedsores. These painful wounds are often caused by prolonged pressure on certain parts of the body and can be a telltale sign that a person is not being properly cared for. Poor hygiene is another common symptom of neglect. When a person is left without assistance, they may be unable to maintain their personal cleanliness, leading to a host of health problems. Inadequate nutrition and hydration can also be signs of neglect, as can soiled clothing or linens.
A personal injury attorney can help victims of abuse seek justice and compensation for their injuries. Remember that you are not alone and there is always help available. Don't hesitate to reach out for support.
Behavioral Changes
It can be difficult to witness changes in the behavior of a loved one who resides in a nursing home. Sudden withdrawal from activities that they once enjoyed, fearfulness around caregivers or staff members, and agitation or depression can all be signs of neglect or abuse.
As family members, it's our job to advocate for our loved ones and ensure that they are receiving the care they deserve. If you suspect that your loved one has been neglected, don't hesitate to contact an experienced nursing home neglect attorney. They can help you navigate the legal system and hold any negligent parties accountable for their actions.
Unsanitary Living Conditions
The thought of living in unsanitary conditions is unsettling, but unfortunately, it is a reality for many. Inadequate lighting and ventilation can not only lead to physical discomfort but also mental strain, making it tough to be productive throughout the day. On top of that, unclean dining areas and bathrooms can pose potential health hazards that can make one sick.
Fortunately, there are steps that can be taken to avoid these conditions, such as informing maintenance staff of any issues. By taking action and using your voice, you can help make a difference for your loved one and other nursing home residents. But if the staff doesn't listen to you, it may be time to explore your legal options.
Suspicious Changes in Medication Dosages or Instructions
We trust our healthcare providers to prescribe the correct medication dosages and provide accurate instructions for use. However, mistakes can happen. It's a reality of life that incorrect medication dosages or mislabeled medications can lead to serious consequences.
Recently, there has been a push for better drug labeling and packaging to minimize confusion and prevent medication errors. Additionally, patients are encouraged to speak up and ask questions about their medications to ensure they are taking the correct dosage and following the right instructions. These changes prioritize patient safety and are crucial steps toward improving medication management in elder healthcare.
Who Can Be Held Liable?
Nursing home abuse is a pervasive issue that can leave seniors physically and emotionally hurt. Identifying the responsible party can be challenging, as nursing home abuse can occur due to a range of reasons, such as:
understaffing,

undertrained staff, or

poor management.
When a resident has suffered abuse or neglect, the nursing home facility will typically be held accountable for the actions of its employees. Liability can also extend to specific nursing home staff members and caregivers who inflict abuse or fail to report it.
Family members of the resident may have legal grounds to bring a case against the facility if they believe their loved one was abused. Ultimately, holding all parties accountable for nursing home abuse is crucial in promoting resident safety and preventing future incidents.
Helping You Protect Those You Love Most
Neglect and abuse of elderly citizens in nursing homes should never be tolerated. We all have a duty to our loved ones to take action—to listen, watch, observe, and report any signs of mistreatment or injustice. When facing the discovery of wrongdoing, you don't have to go through the process alone. A skilled and knowledgeable personal injury attorney can help you seek justice for an elderly family member who has experienced abuse or neglect in a nursing home setting.
At Jim Crabtree Law, justice is what drives us when we represent individuals fighting against negligent nursing homes across Kansas and Missouri. If you or someone you know has experienced nursing home abuse or neglect, don't hesitate to contact us today for a free consultation about your case. We're located in Overland Park, Kansas, and work with clients throughout Wyandotte County, Johnson County, Independence, and North Kansas City