Kansas vs. Missouri Personal Injury & Car Accident Law
April 21, 2023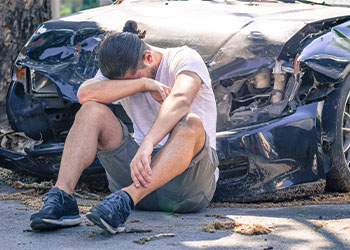 The Kansas City Metro Area straddles both Kansas and Missouri with a population of roughly 2.2 million. The population of Kansas City specifically is divided between more than 151,000 on the Kansas side of the border and more than 509,000 on the Missouri side.
Few people who live here specify their state of residence when they refer to Kansas City. Everyone shares a love for the Chiefs, Royals, and Sporting KC, regardless of which state they pay their income taxes to. However, when it comes to the laws relating to personal injury claims resulting from car accidents, there are fewer commonalities.
Determining Fault in Kansas and Missouri
Kansas is a no-fault state for car accidents. In simple terms, that means auto owners rely on their own personal injury protection (PIP) insurance coverage first when they are injured in a Kansas crash, regardless of who caused it.
PIP provides benefits that can be used to pay medical and rehabilitation therapy expenses, cover lost income while you can't work, and pay for special services you may need, such as housecleaning or transportation while you can't drive. If someone you love dies as a result of the crash, their PIP benefits may be used for funeral and burial expenses.
Being a no-fault state, however, does not mean that no one is held accountable for causing the crash that resulted in injuries, death, and associated damages. If your injuries and damages are serious enough, and rise beyond the limits of your PIP coverage, you can pursue a personal injury claim against the at-fault driver.
In addition to PIP coverage, Kansas auto owners must carry at least minimum liability coverage. Minimum requirements are $25,000 per person, $50,000 per accident if more than one person was injured, and $25,000 for property damage.
Missouri, on the other hand, is a fault state for car accidents. In fact, in theory, you can be 99% at fault for an accident and still file a claim against the person who was 1% at fault. Of course, this doesn't make sense because the person assigned less fault will file a personal injury claim against you, but it is the theory of pure comparative negligence observed by Missouri law.
Missouri auto owners are required to carry the same 25/50/25 minimum liability policy limits as Kansas requires. However, Missourians must also carry at least 25/50 in uninsured motorist coverage. That way, if you are injured by someone who does not have liability insurance, you can file a claim against your own uninsured motorist benefits.
Optional coverage in Missouri includes underinsured motorist benefits, to pay shortfalls when your damages exceed the liability limits of the at-fault driver's policy. Medical payment coverage is also optional but can be accessed to help pay medical expenses regardless of who caused a crash.
How to File a Personal Injury Lawsuit Against the Other Driver
If you want to pursue a personal injury claim against the other driver, you should retain a car accident attorney who is licensed to practice in the state where your accident occurred. A trusted and experienced lawyer will know how to pursue the maximum compensation you deserve.
In Kansas, you can file a claim against the negligent driver if you exhaust the limits of your PIP coverage or if your injuries involve a dislocation, any type of fracture, permanent injury, or permanent loss of body function. With a minimum PIP coverage requirement of $4,500, it does not take long for injuries and damages to surpass policy limits.
In Missouri, you can pursue a claim or lawsuit against the at-fault driver immediately. Moreover, you can recover non-economic damages such as pain and suffering, which you can't recover under PIP coverage in Kansas. You can, however, recover non-economic damages in Kansas in a third-party liability claim.
Kansas and Missouri personal injury laws also provide different lengths of time to file a lawsuit. The statute of limitations in Kansas is only two years from the date of the crash. In Missouri, it's five years.
What to Know About Filing a Wrongful Death Claim
If a deceased person would have been eligible to file a personal injury claim had they survived the accident, certain others may file a wrongful death claim if they die. The same proof of negligence on the part of someone else is still required, just as it is in a personal injury claim.
In addition to the shared statute of limitations for wrongful death claims, Kansas and Missouri laws allow the same parties to file them. Wrongful death actions may be pursued by the heirs, usually the deceased's surviving spouse, children, parents, or siblings. In both states, you have two years from the date of death to file a wrongful death action.
Get Your Questions Answered
What should you look for when choosing an attorney to represent you in a personal injury or wrongful death claim? Find one with a record of success in representing other clients with cases like yours. Experience and skill are formidable attributes. So are compassion, sincerity, and trust.
At Jim Crabtree Law, we provide all of that to our clients, regardless of which side of the border they were injured in. Our office is located in Overland Park, Kansas, but we proudly represent personal injury clients throughout the Kansas City Metro Area in Kansas and Missouri, including Wyandotte County, Johnson County, Independence, and North Kansas City.
Call now to schedule a free case consultation. We are ready to discuss your claim and everything we can offer you in your pursuit of it.