Gathering and Protecting Evidence After a Truck Accident
Jan. 31, 2023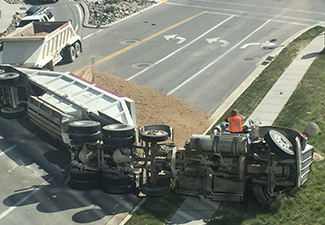 The National Highway Transportation Safety Administration (NHTSA) ranks Kansas as among the top-ten states with the highest number of highway fatalities stemming from collisions with large trucks. The 2020 study placed Kansas as number eight with 578 fatalities. That same year, there were 4,998 fatal crashes nationwide involving large trucks and buses, and large trucks were involved in roughly 107,000 injury crashes, according to the Federal Motor Carrier Safety Administration (FMCSA).
If you're involved in a collision with a semi, big rig, tractor-trailer, 18-wheeler, or however you choose to call these vehicles, the odds are stacked against you if you're in a typical passenger car, van, or truck, which might weigh 4,000 pounds or so. These behemoths of the road can weigh up to 80,000 pounds or more fully loaded. You can end up with serious injuries.
When involved in any collision resulting in property damage and/or personal injury, you are likely going to report it to your insurance company to recover compensation. But in a collision with a big rig, matters aren't always as straightforward as they may be in a fender-bender with another passenger vehicle. Liability can extend beyond just the driver to the trucking company, to the maintenance personnel, to the cargo-loading crew, and perhaps, even to the manufacturer.
Therefore, you really need the help of an experienced truck accident attorney to pursue the proper route to obtain the compensation you deserve for your injuries. You also need to document what happened to the best of your ability – gathering evidence, in other words – to press your claim forward.
If you or a loved one has been injured in a collision with a large truck in or around Overland Park, Kansas, contact Jim Crabtree Law. We have been helping clients make personal injury claims resulting from truck accidents for more than 15 years. We will not only deal with the insurance companies involved but also launch a personal injury lawsuit if warranted.
Jim Crabtree Law proudly serves clients throughout the Kansas City metro areas of both Kansas and Missouri, including Wyandotte County, Johnson County, Independence, and North Kansas City.
The Importance of Gathering Evidence
Your health, of course, is the prime consideration if you're injured in a collision with a large truck, so your first priority should be to obtain the care that you need. If your injuries allow you to collect evidence at the scene immediately after the accident, then you definitely should do so.
Evidence like photos, witness statements, and your own recollection of what happened – either in written or recorded format – will prove essential in helping you win your claim for compensation. If police come to investigate, you should also try to get a copy of the accident report as well.
Evidence That Should Be Gathered and Retained
Of course, you're going to want to exchange insurance information with the driver of the truck, along with that person's personal identification, including a driver's license number. If it's a hit and run, try to get the license plate number of the truck. It's generally not a good idea to try to chase down the fleeing vehicle. That could only lead to further problems.
Using your smartphone, you can accomplish much more in gathering evidence at the scene to press your claim. Take as many photos as possible – of both vehicles, your own or your passengers' injuries if visible, any roadside traffic signs indicating speed limits or other warnings or restrictions, the conditions of the road itself, and anything else that may have contributed to the accident. Videos can also be employed.
If there are witnesses, try to get their statements and contact information. You can even record it all on your phone. If police come to investigate, be sure to follow up and get a copy of the report they file. This can help place the blame where it belongs. Police reports become public records, so you should be able to obtain a copy at some point soon after the accident.
If your injuries prevent you from gathering evidence immediately after the accident, you can still obtain a copy of the police report and go back to the scene of the collision to take photos of the site. The photos may reveal some factors that contributed to the accident. Perhaps the driver was speeding in a curvy area or ignored a posted traffic warning.
The most important key is to seek out an experienced accident and personal injury attorney to handle your claim, even if it's just communicating with an insurance company for you. Let your attorney answer all the insurer's questions and handle negotiations for a settlement. If need be, the attorney can also launch a personal injury lawsuit. Your attorney, of course, will need copies of all the evidence you've gathered, so make sure to preserve everything for that purpose.
The Role of a Truck Accident Attorney
Kansas and Missouri have different auto insurance requirements. Kansas is a no-fault insurance state, where your Personal Injury Protection (PIP) coverage in your auto policy will provide compensation for injuries to you and your passengers (unless they also have auto insurance). To sue the other driver, your PIP coverage must be exceeded by the costs of your injuries and also be considered "serious," meaning permanent in some way or resulting in fractures of some sort.
Missouri is an at-fault auto insurance state, so you are free to report the accident to your insurance provider, contact the truck driver's insurer to make a claim, or simply file a personal injury lawsuit. When it comes to liability, remember that a trucking accident can involve more than just the driver.
If the trucking company pushes the driver to exceed hours-on-the-road driving restrictions or sends the person out on the road without proper training, the company can be held liable. If the maintenance people failed to keep the brakes or tires in satisfactory and safe conditions, they too can be liable. If the cargo is loaded in an off-balanced way, it can make the truck hard to maneuver by altering the vehicle's center of gravity, or the load itself could spill out on a sharp turn or quick stop.
The driver must keep a log of all their actions when on the road. This can be a good indication of what happened and why. Pressing the truck owner or parent company for maintenance and other records can prove essential as well. Your attorney will be able to assess liability through every available channel.
Rely on Jim Crabtree Law
If you or a loved one has been injured in Overland Park or in the Kansas City metro area on either side of the border, contact us immediately. We will investigate what happened, deal with the insurance company or companies involved, and launch a personal injury lawsuit if called for. You should rest and recover while we handle every aspect of your claim. Reach out immediately following the accident.